Austin Healthmate Allergy Machine Junior
Austin Healthmate Allergy Machine Junior for Maximum Protection for People with Asthma and Allergies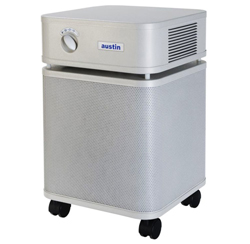 The Austin Air Allergy Machine Junior has been developed specifically to offer maximum protection for those suffering from asthma and allergies. It effectively removes allergens, asthma irritants, sub-micron particles, chemicals and noxious gases, providing immediate relief for asthmatics and allergy sufferers. It can handle up to 700 sq ft.

In addition to the true medical grade HEPA filter, the carbon component of the Allergy Machine Junior has been redesigned to utilize a dustless carbon cloth. The newer technology, invented by the British military to combat chemical attacks, provides a greater surface area of carbon and should last even longer than the original model even though it weights less.

The Austin Air units are particularly economical to own. Because they come with so much filtration material, they generally do not require a filter replacement for 5 years! Occasional vacuuming from the outside of the air purifier is all that is required. Lowest maintenance of any effective air cleaner.

The Austin Healthmate will significantly improve the quality of air in your home.
Who should consider the Allergy Machine Junior?
Those exposed to biologics such as viruses and bacteria
Those living in damp environments
Health Benefits
Lessens night time allergies and asthma attacks
Strengthens the immune system
Eases coughing, wheezing and sneezing
Reduces dry mouth and runny nose
Sounder sleep
Reduced snoring
Why is the Allergy Machine Junior the best choice for me?
Developed specifically for allergy and asthma relief, by immediately filtering triggers such as dust, pollen, chemicals and gases from the air.
Designed for people living in smaller spaces.
Provides relief from sneezing, coughing and stuffy noses caused by every day or seasonal allergies.
The Austin Air Allergy Machine Junior was developed specifically for people with asthma and allergies living in smaller spaces. Its unique design increases air flow, filtering allergens from the air immediately. You can also order your Allergy Machine Junior with wheels for ease of use.
Please call us at (888)246-8776 if you would like help in determining the best model for your specific situation.
Allowing You to Get a Good Night's Sleep
Created for those allergy and asthma sufferers who struggle to find relief, the Allergy Machine is the only air cleaner on the market to incorporate HEGA filtration. The Allergy Machine features High Efficiency Gas Absorption, removing contaminants out of the air before they get a chance to irritate and trigger your asthma or allergies.
Filtration Stages of the Austin Healthmate
Allergy Machine Junior Air Purifiers
360-degree Progressive Filtering System
The Allergy Machine provides a comprehensive air cleaning solution, removing allergens, asthma irritants, sub-micron particles, chemicals and noxious gases. Every minute, The Allergy Machine draws over 125 cubic feet of air through a 4-stage HEGA filter containing Activated Military Carbon Cloth and over 30 square feet of True Medical Grade HEPA.ystem draws air into all sides of the HealthMate, passing it through a 4-stage filter.


STAGE 1 – Large Particle Pre-filter
Removes particles easily seen by the naked eye (e.g. dust, hair and pet dander)
STAGE 2 – Medium Particle Pre-filter
Removes small to medium size particles (e.g. molds, spores and pollen)
STAGE 3 – 30 ft. of True Medical Grade HEPA
Removes harmful micro-organisms (e.g. bacteria and viruses)
STAGE 4 – Activated Military Carbon Cloth
Removes chemicals, gases and odors (e.g. formaldehyde and ammonia)
5-Year Mechanical Warranty
Your Austin Air cleaner is warranted to be free from defects in material and workmanship for a period of 5-years from the date of purchase; provided your Austin air cleaner was operated under normal residential use and that you have completed and returned your warranty registration to Austin Air Systems
5-Year Pro-Rated Filter Warranty
Austin Air offers a 5-year pro-rated filter warranty, by far the most comprehensive in the industry. No more costly filter replacements every few months or even years. Austin Air filters are designed to last for an amazing 5-years, under normal residential use.
Have Questions or Need Advice?
Please call our toll-free number (888)246-8776 to talk to a friendly and knowledgeable customer service representative. Our hours are 8:00 p.m. Pacific time (that's 11:00 p.m. on the East Coast) and are open on weekends.