Atem Carrying Case
Take the Atem air purifier anywhere.
Durable, convenient, and stylish carrying case specially designed for Atem Desk.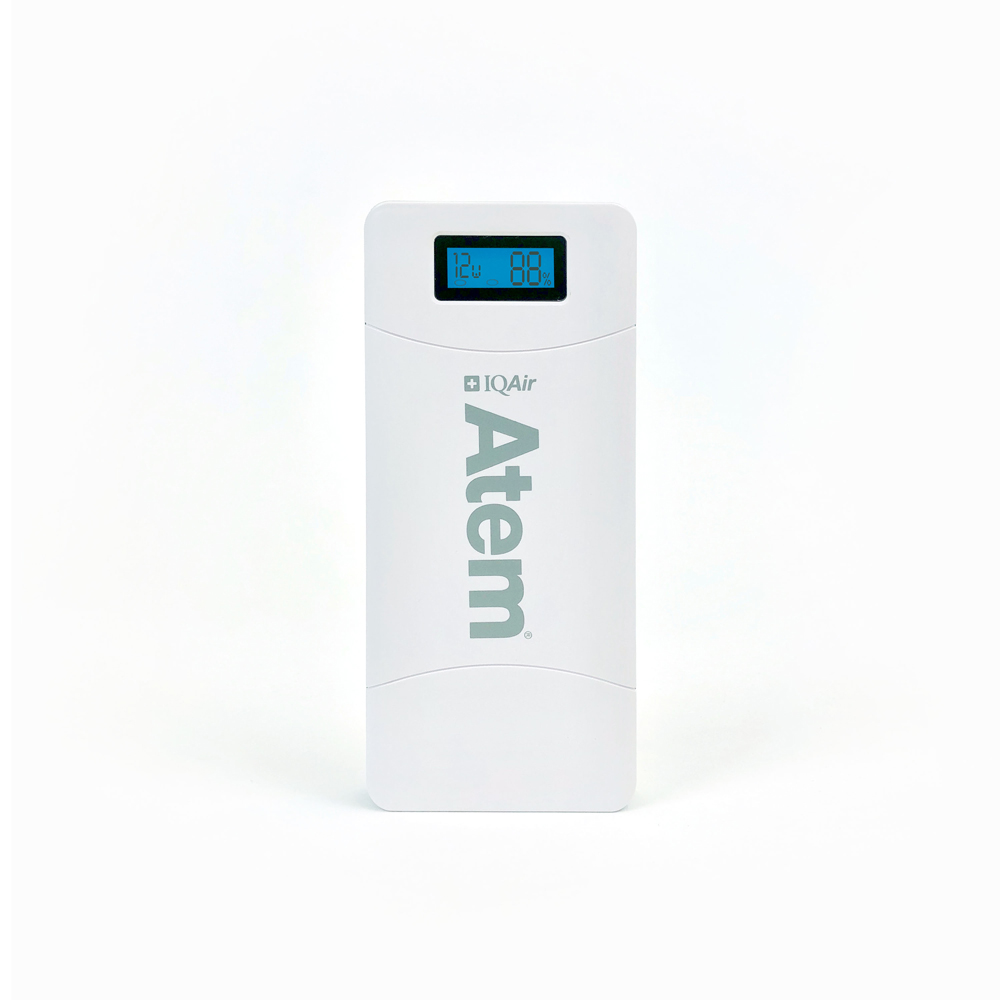 Atem Portable Power Bank
No plugs? No problem!
Portable battery pack supplies Atem with all-day charge (12 hours on medium default speed setting), allowing you to take pure air with you wherever you go.
Atem Car Accessory Kit
Accessory kit to transform Atem Desk into an Atem Car air purifier.
Car mount and power accessories make Atem compatible with any vehicle interior for in-cabin air cleaning. Includes: car mount, belt and buckle, car power adapter.
PF40 Coarse Dust Pre-Filtration Kit
Captures Larger Particles to Extend the Life of IQAir Filters
For environments with elevated levels of coarse dust, the PF40 kit can be added to any IQAir system for superior coarse dust filtration. This helps to extend the life of the unit's standard pre-filter element.
Installation: The PF40 kit consists of an upper grille which screws into the filtration device's base. A synthetic coarse dust filter pad is held in place by a lower grille that is secured by four clips. The 1/2 inch deep non-woven design of the PF40 filter pad ensures superior coarse dust holding capacity.
The filter pad may be washed several times before it needs to be replaced.
IQAir Compatibility:  Compatible with all IQAir filtration devices. Not compatible with the accessories FlexVac, VM FlexVac, VM InFlow and InFlow W125.
Inflow Ducting Kit with Wall Vent for the Creation of Overpressure and Underpressure Environments
The InFlow W125 ducting kit enables any IQAir filtration system to draw air through  a wall or window vent into an indoor environment. Use of the InFlow W125 is advisable when the main pollution source is located in adjacent indoor environments or outdoors.
Enjoy controlled clean air ventilation
An IQAir filter system combined with an InFlow W125 can be installed to draw outdoor air into an indoor environment. In this setup, an IQAir serves as a ventilation system, bringing in oxygen-rich outdoor air and a filtration system, which removes undesirable outdoor pollutants such as pollen, mold spores, dust and exhaust soot. As a result, fresh and filtered outside air comes into the room.
Create clean positive pressure areas
An IQAir filter system combined with an InFlow W125, which draws air into a room will in most cases allow the creation of a positive pressure. This positive pressure helps to clean the air in a room by constantly flushing out air pollutants and by preventing outside pollutants from entering the room.
Application Examples
Protection of allergy sufferers from pollen exposure in their home
Protection of patients from microbiological exposure (e.g. aspergillus) in a hospital
Creation of clean research or manufacturing areas (controlled environments)
Protection of plant control rooms from corrosive contaminants
Creation of a clean zone within a home or office which helps to prevent outdoor pollution from nature, factories, traffic, agriculture to enter.
Using an InFlow W125 with an IQAir system can improve indoor air quality by:
diluting polluted air with clean air
flushing out air pollutants
reducing influx of new outside pollutants due to a build-up of positive pressure
by increasing oxygen content in indoor air (when outdoor air is being drawn in)
Installation
The InFlow W125 kit can be easily added to any IQAir filtration unit in a matter of minutes. As regards the building, the only modification required is a 5inch hole in a window, wall or door which allows you to connect the InFlow W125 aluminum duct.
The duct may be freely flexed to allow control over the desired vent location. It is expandable in length, from 10ft in its original compressed state, to 39ft when fully extended.
OutFlow Ducting Kit with Wall Vent for the creation of overpressure and underpressure environments
Applications:
 The OutFlow W125 kit allows filtered air from any IQAir filtration device to be directed through a wall or window vent. The OutFlow W125 kit can be used to:
Create clean areas
Deliver filtered air into cleanrooms or to the outside
Create negative pressure areas
Create positive pressure areas
Clean Area and Cleanroom Use:
The supply of filtered air into an environment helps reduce air pollution in that environment by dilution and the creation of positive pressure, which reduces the infiltration of polluted air from outside the environment. With the OutFlow W125 kit, the filtration device is positioned outside the clean area or cleanroom, saving valuable space and reducing noise exposure. It also eliminates the danger of housing leakage, making it suitable even for certified cleanrooms.

Isolation Areas:
Infection control (e.g. tuberculosis) in hospitals and similar facilities demands the creation of negative pressure environments to reduce the spread of airborne microorganisms. The OutFlow W125 permits operation of the filter unit from within the isolation area, eliminating the danger of housing leakage into the surrounding area.
Installation:
The OutFlow W125 kit easily modifies any IQAir filtration unit. Simply replace the top module of any standard IQAir filtration unit with the TopFlow adapter. All that is needed to install the ducting, wall tube and vent is a 5.2″ opening in a wall or window. The OutFlow W125 kit also includes a damper and a protective mesh grille which prevents backdrafts and entry of coarse particles when the system is not in use. The large 5″ diameter of the ducting ensures low air resistance.
The aluminum duct may be freely flexed to allow control over the desired vent location. It is expandable in length from 10″ in its original compressed state to 39″ when fully extended.
Creation of Pressure Differentials:
The OutFlow W125 lets you create pressure differentials between different indoor areas. Negative pressure serves to contain pollutants in an isolation area. Positive pressure protects a clean environment from uncontrolled infiltration of airborne contaminants from polluted areas.
Emission Control:
Legislation limits the emission of polluted air to the outdoors. The OutFlow W125 filters air before it is exhausted outdoors to help meet environmental emission standards. Air is filtered and expelled outdoors via a flexible ducting system. The negative pressure area that is created prevents unfiltered indoor air from leaking outdoors.
IQAir Compatibility:
Compatible with all IQAir filtration devices and accessories.
Have Questions or Need Advice?
Please call our toll-free number (888)246-8776 to talk to a friendly and knowledgeable customer service representative. Our hours are 8:00 p.m. Pacific time (that's 11:00 p.m. on the East Coast) and are open on weekends.