The GC MultiGas combines HyperHEPA particle filtration with powerful gas and odor filtration.
If your concern is primarily odors or chemical vapors, the MultiGas GC air purifier will be the IQAir model to consider.
These units are specialized air cleaning devices that effectively handle a wide spectrum of gaseous contaminants such as smoke, pet odors, and paint fumes.
Specially formulated gas phase filter media makes the IQAir MultiGas GC perfectly suited to take control of gaseous contaminants in residential, commercial or medical environments.
And while gas and odor control is a particular strength of these systems, the GC Series also offers superior filtration efficiency for particles.
How the IQAir MultiGas GC delivers the purest air possible
The IQAir GC MultiGas air purifier is designed to clean the full spectrum of airborne pollutants with the very best filtration technology available at each of four stages. Air is drawn into the GC MultiGas through the bottom of the system by a powerful IQAir fan, then sequentially cleaned in a step-by-step process that delivers the purest air possible. In addition, IQAir's unique 3D UltraSeal no-leakage design prevents air from escaping back into the room without being drawn through the GC MultiGas filters.
The four filtration stages include:
Stage 1: HyperHEPA Particle Filtration
The first stage of filtration features a powerful HyperHEPA pre-filter that removes particles of all sizes, including ultrafine particles.
Stage 2: Cartridge-based activated carbon adsorption
Highest-grade activated carbon is used to filter Volatile Organic Compounds (VOCs), which are responsible for odors.
Stage 3: Cartridge-based Chemisorption
This stage destroys harmful chemicals, such as formaldehyde, by an oxidation process inside a chemically active alumina pellet.
Stage 4: Post-Filter Sleeve
A post-filter sleeve wraps each gas cartridge to prevent media dust from being released.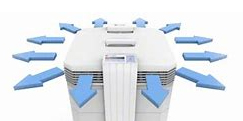 Finally, while most air cleaners return filtered air into the room through a small, noisy outlet that generates annoying drafts, the IQAir GC MultiGas features IQAir's unique EvenFlow Diffuser with 320-degree air delivery. Filtered air is quietly and evenly distributed in all directions.
The MultiGas GC is Rated #1 for Tobacco Smoke
Exposure to environmental tobacco smoke significantly increases the risk of lung cancer and heart disease in non-smokers, as well as contributing to respiratory illnesses.The less secondhand smoke you breathe, the better. The GC MultiGas excels at reducing airborne contaminants from smoke.
Tobacco smoke contains more than 4,000 different chemicals, 60 of which are known carcinogens. These various elements are a mix of liquids, gases, and solid particles. An air purifier cannot help protect against tobacco smoke unless it provides a high level of efficiency against both particles and gases. On the other hand, a high-efficiency air purifier with the right filtration media can help dramatically.
The IQAir GC MultiGas air purifier, which offers unrivaled protection against both particles and gases, is the recommendation of most experts.
Summary of IQAir MultiGas GC Features and Benefits
The MultiGas GC air purifier uses four filter cartridges to hold 12 lbs. of gas phase media. The cylindrical shape of these cartridges allows for optimum contact between the air and the gas phase media, while offering low air flow restriction. The cartridges are very user friendly and can be replaced in a matter of minutes.
High-Efficiency Particulate Filtration
he GC gaseous filtration process is complemented by two particle filtration stages, one before and one after the gas phase cartridges. This increases the service life of the gas phase media by preventing its pores from clogging.
The IQAir control panel allows you to select from six fan speed settings. A two-line LCD displays the corresponding air delivery rate at each speed setting. A sophisticated filter life monitoring system calculates the remaining life of each individual filter. An integrated timer allows you to program the unit for automatic operation. For added convenience, the GC Series also come with a remote control.
100% Healthy Technologies
The MultiGas GC uses safe technologies which do not produce ozone or any other dangerous byproducts.
Have Questions or Need Advice?
Please call our toll-free number (888)246-8776 to talk to a friendly and knowledgeable customer service representative. Our hours are 8:00 p.m. Pacific time (that's 11:00 p.m. on the East Coast) and are open on weekends.