#1 CHOICE FOR ALLERGY AND ASTHMA SUFFERERS
Clinically proven effective for allergic asthma, the IQAir HealthPro Plus is ideal for those suffering from a wide range of respiratory ailments and is rated # 1 for allergy and asthma relief.  The HealthPro Plus is the top recommended air purifier by medical and healthcare professionals. It is also top-rated for relief from pet allergies.
Its patented HyperHEPA filtration is tested and certified to filter ultra-fine pollution particles down to 0.003 microns in size with a guaranteed minimum efficiency of over 99.5%. Ultra-high efficiency medical grade filtration captures the ultra-small particles other air purifiers miss – literally offering as much as 100 times the air cleaning power of an ordinary air cleaner. In addition, IQAir's patented V5 gas and odor filter provides the most comprehensive gas, odor, and chemical filtration found in a residential air purifier.
The IQAir HealthPro Plus removes both particulates and vapors from cigarette and cigar smoke.
IQAir's HyperHEPA filtration is tested and certified to filter down to 0.003 microns in size with a guaranteed minimum efficiency of over 99.56.   This is literally smaller than the smallest virus or bacteria.
IQAir's patented HyperHEPA filter can remove all particle sizes, down to the very smallest particles that can be measured, and it does so at an efficiency rating that has never before been achieved in a home air cleaner.
Medical-Grade Filtration
Numerous scientific studies have proven that
ultra-fine particles (defined as 0.1 microns or smaller) are the most harmful to our health. They can be absorbed through lung tissue right into our blood stream. Over 90% of the particles in the air are smaller than 0.1 microns and these ultra-fine particles are small enough to penetrate a cell's mitochondria (the center and brain of the cell) and cause cell damage. The California Air Resources Board estimates that ultra-fine particles subtract 10 years from a person's life. Furthermore, a study by The American Heart Association shows that these ultra-fine particles can increase the risk of heart attacks and strokes.
IQAir is the only purifier proven to filter the ultrafine particles that are known to be the most harmful to our health. On average, IQAir would remove 99 out of 100 pollutants in the air, as opposed to removing only 5 to 10, between 5-10% of airborne pollutants.
IQAir is #1 in Hospitals Worldwide
IQAir makes the #1 air purifiers used in hospitals worldwide. The HealthPro Plus is used by hospitals in more than 100 countries to help protect caregivers from cross-contamination of contagious diseases like SARS, MRSA, tuberculosis and Avian flu – and it is the #1 air purifier recommended by doctors for patients with allergies and asthma.
Models of the IQAir HealthPro Series
The HealthPro Series consists of four models, two of which include carbon filtration to remove odors and chemicals and two models that do not have this feature. All models of the HealthPro Series include the HyperHEPA filtration that captures the smallest, most unhealthful particles.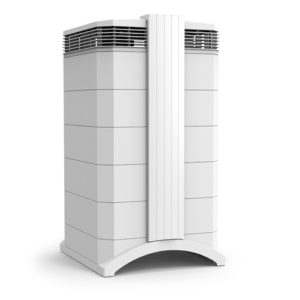 The HealthPro Plus: This model is the best choice for most situations.  Its V5 filter has been formulated to capture chemical fumes such as VOCs from paints and lacquers as well as regular odors such as smoke and mildew.  HyperHEPA filtration removes particles as small as .003 microns.
The HealthPro Compact: This model does not have the V5 filter for odors and chemical abatement but does have the superior particulate filtration offered by the HealthPro Plus. The Compact cannot be upgraded to include the carbon filter. It is five inches shorter than the other models.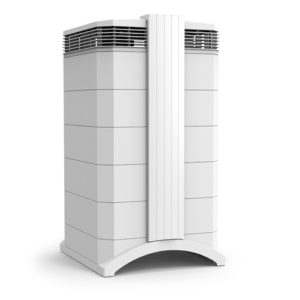 The HealthPro:   This model has the same HyperHEPA filter and prefilter as the HealthPro Plus and HealthPro Compact, but like the Compact, it is lacking the V5 filter to capture odors and chemicals. This model can be upgraded at a later time to have the same functionality as the HealthPro Plus.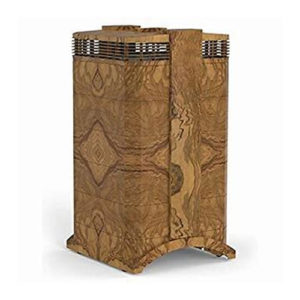 The Klaus Series:  IQAir gave their HealthPro Plus air purifier a luxurious wood exterior veneer finish of  hand-picked Pistachio Burl.  Each Klaus Series air purifier is housed in a handmade custom wood cabinet. 100% of the net proceeds from Klaus Series sales goes to the IQAir Clean Air for Kids program. 
Have Questions or Need Advice?
Please call our toll-free number (888)246-8776 to talk to a friendly and knowledgeable customer service representative. Our hours are 8:00 p.m. Pacific time (that's 11:00 p.m. on the East Coast) and are open on weekends.