IQAir started the air cleaning industry in 1963 and has remained at the cutting edge of this technology for over 50 years.  In fact, their Swiss-based design and manufacturing team produced the first home air purifiers capable of achieving a "0" reading using sophisticated laser particle counters indicating zero particles coming out of the air outlet.
IQAir air purifiers feature the safest, healthiest and most effective way to clean the air.  Because IQAir systems produce no ozone, ions, chemicals, UV or any other dangerous byproducts their systems are recommended by government agencies and leading health organizations.
The IQAir product line includes portable models, a whole-house system, and desktop and car air purifiers. 
Please call our toll-free number (888)246-8776 if you would like help in choosing the best model for your particular needs.
IQAir supplies air purifiers to key hospitals in Wuhan, China
IQAir is providing HealthPro air purifiers to hospitals in Wuhan designated to treat people infected by the coronavirus, supplying purifiers first to the radiology unit, respiratory unit, and others at Tongji Hospital, affiliated with the Tongji Medical College of Huazhong University of Science and Technology, as well as to Wuhan Union Hospital. 
According to public health officials, the current 2019-nCoV coronavirus comes from the same family of viruses as the severe acute respiratory syndrome coronavirus (SARS-CoV) that killed 774 people in 2003.  IQAir is well-prepared to assist in controlling the current coronavirus outbreak since it helped mitigate transmission of the deadly disease during the SARS virus outbreak.  
How IQAir helped during the SARS virus outbreak
IQAir air purifiers were rigorously tested for virus control by the Hong Kong Hospital Authority and provided more than 150 hospitals to help protect staff and patients. The respiratory unit of Peking University People's Hospital in Beijing, China also purchased numerous IQAir HealthPro systems during the SARS outbreak in 2003 — over 16 years later, the systems are still in stable operation.
Read more about how IQAir worked with the Hong Kong government to contain the SARS virus.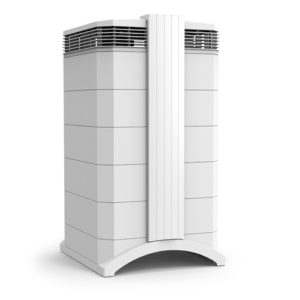 Rated # 1 for allergy and asthma relief, the HealthPro Plus is the top recommended air purifier by medical and healthcare professionals. It is also top-rated for relief from pet allergies.
While HEPA air purifiers remove particles as small as .3 microns, the IQAir HealthPro Plus removes ultrafine particles down to .003 microns! The result is the removal of 100 times the number of particles as compared to HEPA filtration.  This  makes the HealthPro Plus an ideal choice for those suffering from a wide range of respiratory ailments and other health-related issues. 
The IQAir MultiGas GC provides the most comprehensive gas and chemical filtration available in a residential air purifier. It is perfect for filtering strong household odors, and it is the #1 recommended gas and chemical filtration air purifier for smoke removal.
The MultiGas GC also includes a HyperHEPA prefilter that eleminates allergens, smoke, viruses, mold, and bacteria. The superior prefilter helps extend the life of the gas-phase media by keeping the cartridges from becoming clogged with particulates.
The Perfect 16 whole-house air purifier is seamlessly retrofitted into your home's existing heating and/or air conditioning system. It silently and efficiently cleans all of the air in your home up to 125 times per day.
The Perfect 16 is the only system that is rated a perfect MERV 16, the highest rating possible. It has over 170 square feet of filter media that purify the air with no harmful ozone, ions, UV or chemicals at all! 
Designed to have ultra low air resistance, this unit actually improves the performance efficiency of your heating and cooling system.
The portable Atem streams clean air anytime, anywhere.  Just focus the PureJet diffuser to your breathing zone to blanket yourself in pure air. This is an excellent choice for bedrooms, nurseries, office space, and travel.
The Atem uses advanced technology to enable to user to easily access features such as automatic shut-off.  The Atem can also sync with your mobile devices to unlock more features and information.
The IQAir Car Atem quickly and efficiently distributes clean air to your car's entire headspace, yet is incredibly powerful, quiet and compact.
Cleaning the air in your car up to 20 times per hour enables the Atem to capture a wide range of road and in-vehicle air pollutants, including toxic new-car vapors. Passengers are shielded from dangerous traffic pollutants like diesel soot and chemical gases as well as chemicals off-gassing from new cars.
Have Questions or Need Advice?
Please call our toll-free number (888)246-8776 to talk to a friendly and knowledgeable customer service representative. Our hours are 8:00 p.m. Pacific time (that's 11:00 p.m. on the East Coast) and are open on weekends.