Air-Care Washable Electrostatic Filters​
THE EASY WAY TO SELECT THE CORRECT PERMANENT ELECTROSTATIC FILTER
The thickness and flexibility of your filter are the most important factors to consider since your central air system will require a specific kind of filter.
To narrow down your options, click on the menu item below that represents the thickness of your filter.
What To Know About Air-Care Permanent Electrostatic Filters
Your central air system will dictate the size of the filter you need. The most common thickness is 1″ but your HVAC unit might require a different size.
Air-Care filters permanent filters come in these thicknesses:  1/4″, 1/2″ , 1″, 2″, and 3″ to 6-5/8″.  
Custom filters are available in sizes between 10″ – 30″ in length and 10″ – 24″ in width.
Air-Care washable filters are available in 28 standard sizes which include ElectraGold and ElectraSilver filters in 1-inch depths and ElectraFlex filters. All other filters are only available in custom sizes.
There are two rigid frames and one flexible frame to choose from.
The Gold frame is the best-made, most durable but is only offered in 1″ thickness.
The Silver frame is slightly more economical and comes in a wide variety of sizes.
The Flex frame is for special applications where a rigid frame cannot be used because the filter must be bent in order to install. Flex filters are 1/4″.
The arrestance of a filter reflects its ability to remove small airborne particles. With the exception of FLEX filters, the frame type and size determines the arrestance.
94% arrestance is found in ElectraGold filters and ElectraSilver filters 2″ and thicker.
88% arrestance is found in ElectraSilver filters 1/2″ and 1″ deep.
ElectraFlex filters can be ordered with either 88% or 94% arrestance.
Since 94% arrestance provides a greater amount of particle capture, this level would normally be preferred. The 88% arrestance filters, however, may be needed when used in an older or weaker air handling system since air can move more freely through them. The difference in effectiveness is minimal.
Anti-Microbial and UV Resistant Layers
Air-Care filters with 94% arrestance have an anti-microbial layer and are resistance to UV radiation. Note that these layers are not available in 88% arrestance filters.
Anti-Microbial Layer: All 94% filters contain an EPA registered anti-microbial material to inhibit the mold and bacteria growth on the filter surface. Pathogens are trapped in self-charging polyproplyene electrostatic fibers and are easily hosed away with routine cleaning.
UV Resistance: Air-Care filters with 94% arrestance are manufactured to be resistent to ultraviolet radiation. This is an important feature if you have germicial UV bulbs in your heating and cooling system or your equipment is exposed to sunlight since UV rays are destructive to filtration materials.
Sizes and Prices of Air-Care Washable Filters
Standard Size Filter Prices
Frame Type
Depth
Price
ElectraGold
1"
$69.95
ElectraSilver
1"
$66.95
ElectraFlex
1/4"
$69.95
ElectraGold, 1″ ElectraSilver filters, and ElectraFlex filters are available in these standard sizes as well as custom sizes:
Standard Filter Sizes

10 X 10
12 X 24
14 X 25
16 X 30
20 X 20
10 X 20
12 X 25
14 X 30
18 X 18
20 X 24
10 X 24
12 X 30
16 X 16
18 X 20
20 X 25
10 X 30
14 X 14
16 X 20
18 X 24
20 X 30
12 X 12
14 X 20
16 X 24
18 X 25
12 X 20
14 X 24
16 X 25
18 X 30
Important: The actual dimensions of the standard sizes are actually slightly smaller than listed to accommodate variances in equipment. All standard size filters are undercut by 3/8″ for both length and width and all filters have a 1/8″ tolerance.
Custom Size Filter Prices
Frame Type
Depth
Price
ElectraGold
1"
$75.95
ElectraSilver
1"
$69.95
ElectraSilver
1/2"
$75.95
ElectraSilver
2"
$89.95
ElectraSilver
3" to 6-5/8;
$119.95
ElectraFlex
1/4"
$75.95
Custom filters are available in sizes between 10″ – 30″ in length and 10″ – 24″ in width.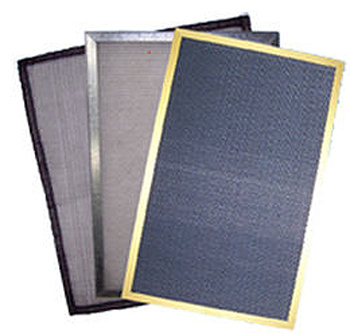 Have Questions or Need Advice?
Please call our toll-free number (888)246-8776 to talk to a friendly and knowledgeable customer service representative. Our hours are 8:00 p.m. Pacific time (that's 11:00 p.m. on the East Coast) and are open on weekends.