Airpura UV714 Germicidal Air Purifier
Airpura UV714 Air Purifier Kills Germs and Removes Particles (Dust, Dander, Pollen) and Odors (Food, Smoke, Pets)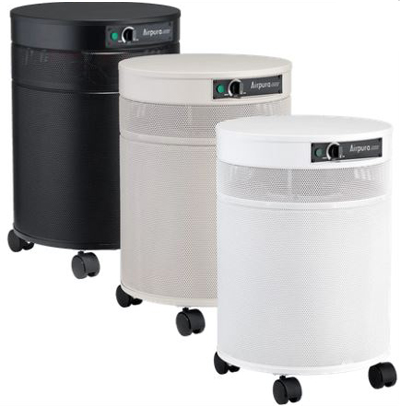 The Airpura UV714's ultraviolet bulbs provide effective germicidal results against pathogens including viruses, mold spores, and bacteria. This unit also serves as an excellent all-purpose air purifier with its medical grade SuperHEPA filter for particles and generous amount of activated carbon for adsorption of odors, vapors and smoke.
The 20 watt UV lamp provides the dose needed to kill pathogens including mold spores. Many other brands use UV bulbs that are simply too weak to adequately combat living microorganisms.
But the Airpura UV714 does more than kill germs. Its 40 sq ft of SuperHEPA filtration material captures mold spores as well as dust, dander, pollen, and other airborne particulates. It also contains 18lbs of high quality activated carbon which will remove unwanted odors, smoke, and chemicals from your living space. The fan will move 635 cubic feet of air per minute through these filters, cleaning up to 2,000 square feet. In a smaller space, the Airpura UV714 will provide more air exchanges per hour which will result in even cleaner air.
The Airpura UV714 is a good choice for someone who would like protection on three levels: germs, particles, and vapors. It is also an excellent choice for anyone who would just like to breathe healthier air at home or in the office.
Filters certified as HEPA must remove 99.97% of all airborne particles that are greater than .3 microns in size. While Airpura 700 series units with HEPA filtration meet this requirement, Airpura 714 series air purifiers with SuperHEPA filtration exceed this standard by removing 99.99% of these small airborne particles.
PROTECT YOURSELF FROM DISEASE-CAUSING VIRUSES, BACTERIA AND MOLD.
The potent UV light technology of this air purifier comprised of 3 levels of filtration removes disease-causing viruses, bacteria and mold.
Removes: Bacteria, antigens, pathogens, mold spores, airborne chemicals
Ideal for:
Families who want clean and healthy air at home.
People with low immunity to germs and bacteria
Mold infestations
Hospitals
Schools and day-cares
Doctors/dental offices/clinics
Nursing Homes
Maintaining fresh air in a basement
Why this Air Purifier is considered #1:
18-lb carbon filter adsorbs most chemicals, VOC's and odors
The powerful SuperHEPA filter captures 99.97% of airborne particles, as small as 0.3 microns.
Unlike other machines on the market, the UV germicidal lamp in this purifier sterilizes microorganisms preventing them from being released back into the air.
360° air distribution allows for purification for up to 2000 sq. ft with 2 air exchanges an hour (based on 8-foot ceilings).
Sleek machine design that will blend in with all decors.
Easy care and maintenance
Please call us at (888)246-8776 if you would like help in determining the best model for your specific situation.
Overview of the Airpura UV714 Germicidal Air Purifier
The Airpura UV714's 20-watt, 17-inch ultraviolet bulb is effective in destroying pathogens such as viruses, bacteria, and mold spores. According to the Environmental Protection Agency:
Mold, dust mites, pet dander, and pest droppings or body parts can trigger asthma. Biological contaminants, including molds and pollen can cause allergic reactions for a significant portion of the population. Tuberculosis, measles, staphylococcus infections, legionella and influenza are known to be transmitted by air.
The UV714 also has a medical grade SuperHEPA filter to capture particles such as dust, dander, and pollen as well as a large amount of high-quality activated carbon to remove household odors (including mildew) and some chemicals.
The UV714 can be customized to meet almost any need. This unit can be configured to include the SuperHEPA filter rather than the standard HEPA filter. If desired, the carbon in this model can be upgraded to the Enhanced SuperBlended carbon found in the
V700
or
F700
to increase the capacity to remove VOCs such as generated by paints and paint strippers, pressed wood, rugs, and furniture. The UV714 can even be retrofitted to add the TitanClean photocatalytic oxidizer that is found in the
P714
series.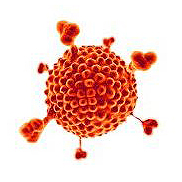 UV Germicidal lamp sterilizes antigens, pathogens and mold spores as they are trapped on the filters
17 inches germicidal surface U shaped lamp: 2 times the length of other makes and 2 times as effective
Activated Carbon and SuperHepa filters filter airborne chemicals, odors and particles
Effective for up to 2000 sq ft
22″ high, 15″ wide
18lbs Enhanced impregnated carbon
40 sq ft SuperHEPA filtration surface
Can be retrofitted with the TitanClean photocatalytic oxidizer found in the P700 series.
635 CFM integrated fan/motor
Have Questions or Need Advice?
Please call our toll-free number (888)246-8776 to talk to a friendly and knowledgeable customer service representative. Our hours are 8:00 p.m. Pacific time (that's 11:00 p.m. on the East Coast) and are open on weekends.